The Anscombe Centre Honours the Memory of the Late Pope Benedict XVI (1927-2022)
The Anscombe Bioethics Centre would like to honour the memory of the late Pope Benedict XVI. His witness to Christian humility, commitment to reasoned dialogue with other philosophical and religious tradiitions, positive engagement with civil society, and principled respect for human life in all its stages, are all examples which should animate the Catholic bioethical vocation.
As Pope Francis said of his late predecessor in his Homily for Vespers and the solemn Te Deum at St Peter's Basilica on New Year's Eve:
"We are moved as we recall him as such a noble person, so kind. And we feel such gratitude in our hearts: gratitude to God for having given him to the Church and to the world; gratitude to him for all the good he accomplished, and above all, for his witness of faith and prayer, especially in these last years of his recollected life. Only God knows the value and the power of his intercession, of the sacrifices he offered for the good of the Church".
Pope Benedict, when he was Cardinal Ratzinger, wrote a recommendation of the work of the Centre when we were the Linacre Centre for Healthcare Ethics, reproduced below. May his soul, and the souls of all the faithful departed, through the mercy of God rest in peace.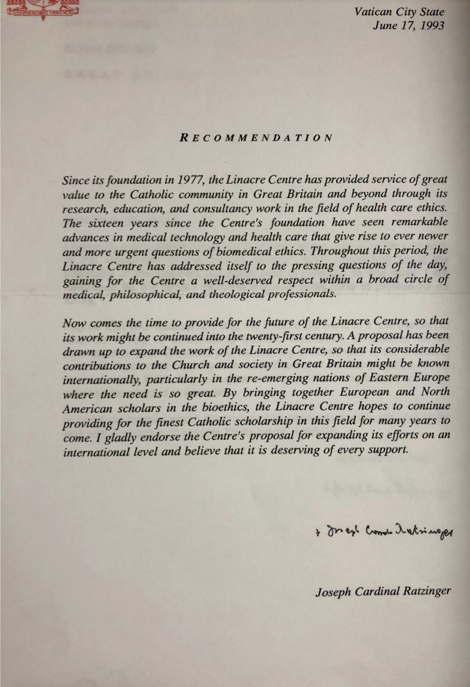 Support Us
The Anscombe Bioethics Centre is supported by the Catholic Church in England and Wales, Scotland, and Ireland, but has also always relied on donations from generous individuals, friends and benefactors.